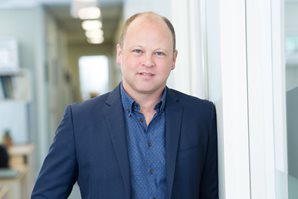 Toronto, Ontario, October 3, 2019: We are pleased to announce that the Board of Directors of OTEC Workforce Innovation has selected the next President and CEO – Adam Morrison – effective January 1, 2020. He will replace Victoria Behune who has been the leader of OTEC for 14 years and is retiring after a remarkable four-decade career.
The appointment will allow Morrison, who has served as OTEC's Vice President, Projects and Partnerships, to focus on the overall long-term direction in workforce development strategy and build on OTEC's extensive track record in enabling organizations and destinations to improve their performance and competitiveness. Morrison is well-equipped to guide the company's strategic vision, operations and team. His leadership brings an intensified focus on evidence based strategic planning and execution, deep knowledge of workforce innovation and strong relationships with OTEC stakeholders and government.
Morrison joined OTEC in July of 2008 and was promoted the following year to Director, Project Development. In 2016 he was promoted to Vice President, Projects and Partnerships. He is responsible for OTEC's workforce development consulting services, working with industry, government, educators and communities to ensure businesses and destinations are prepared for the changing market.
Morrison's commitment to workforce innovation has resulted in a broad portfolio of research, technology and sector-level strategy projects and he is driven toward the continuous improvement of product and service offerings at OTEC and across the workforce ecosystem. Recent initiatives include a national systems-change exploration with the Future Skills Centre – Centre des Compétences futures (FSC-CCF). Morrison also led the design and launch of ALiGN, an online psychometric assessment and matching platform that has since been deployed across Ontario. Adam's sector-based work has also resulted in OTEC's leadership in a range of targeted strategy and consulting services including projects such as Ontario's Tourism Workforce Development Strategy 2012-17, commissioned by the Tourism Industry Association of Ontario (TIAO), and, more recently, the establishment of the Tourism SkillsNet Ontario alliance of sector-based workforce development consortia, which launched in 2018.
"On behalf of the OTEC Board of Directors, I congratulate Adam on his appointment as President & CEO. He has contributed immensely to OTEC's growth as a leader in workforce development over the past 12 years and we look forward to the continued impact that he, together with the OTEC team, will achieve in his new capacity", remarks John Wilkinson, OTEC Chair.
Morrison contributes regularly to a range of industry advisory committees and councils. He speaks frequently on the topics of workforce innovation and sector-based workforce planning. He joined OTEC with Canadian and international experience in corporate training, organizational research, human resources and human capital consulting.
Morrison will officially start as OTEC President and CEO on January 1, 2020.
About OTEC
OTEC Workforce Innovation (OTEC) is an Ontario-based, independent, not-for-profit training, consulting and workforce development organization that provides sector-based research, project management, workforce strategies, training development and delivery throughout the workforce lifecycle. Established in 1991 as a tourism and hospitality training and skills development organization, OTEC has evolved as a leader in workforce development and innovation that connects and aligns industry, education, associations, regional tourism organizations, workforce planning organizations and all levels of government to stimulate collaboration and create labour market strategies and plans. Additionally, OTEC is actively engaged with organizations on the development and growth of a professional, skilled workforce through customer service, leadership and tourism ambassador training and strategies, professional certifications, education products as well as services for a wide range of industry sectors. OTEC's corporate training and consulting clients include small and medium-sized businesses as well as Fortune 500 companies across Canada, the United States and the Caribbean.