Psychometric Tool that matches Unique Personality to Best-Suited Careers Now Free for Canadian Youth
NEWS RELEASE
Sophisticated Psychometric Tool that matches Unique Personality to Best-Suited Jobs put directly in hands of Canadian Youth for first time
(Toronto, Ontario – March 4, 2021) The Ontario Tourism Education Corporation (OTEC), in partnership with the Future Skills Centre, is pleased to announce that ALiGN — a sophisticated psychometric assessment tool developed from decades of research in human personality — is being made available directly to youth across Canada free of charge for the first time until March 31. Users receive a customized report that reveals their whole personality, providing them with a unique portrait of strengths and hidden potential to match them with a career path uniquely suited to their own personality.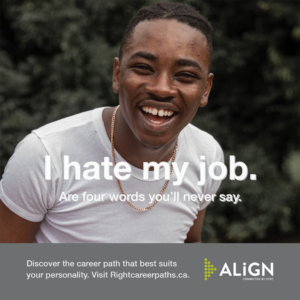 "Studies have shown that determining jobs well-suited to your personality can contribute to your productivity and job satisfaction," said Adam Morrison, President and CEO, OTEC. "Customarily, this program is administered through Employment Service Providers (ESPs) working with youth clients. However, as the COVID pandemic has negatively impacted employment across so many sectors, including marginalized communities in remote regions, we're pleased to put this powerful tool directly in the hands of Canadian youth at this time to help them in planning their careers in a post-pandemic workforce."
Choosing a career path has always been challenging for young people. With so many potential different directions, finding the right fit early in life can make a world of difference. Kristi Cloutier, a 26-year-old from Timmins, Ontario, found the assessment extremely helpful in choosing a career that hadn't previously occurred to her. "ALiGN helped me to understand what jobs I'd be better suited for and to narrow down my search for jobs where my personality traits would fit. Because of that, I ended up with a job that I am happy in," said Cloutier.
ALiGN is available free of charge until March 31, 2021 for youth job seekers across Canada, 15–29 years of age, with any education level. Simply visit www.rightcareerpaths.ca and complete the simple questionnaire to receive a 12-page customized report of your strengths and traits and a career workbook. The custom ALiGN report can help youth leverage knowledge of their personal strengths to identify meaningful job/career options directly suited to them. The report can also be used to prepare resumes and cover letters, to get ready for interviews and to open conversations with employers. ALiGN can benefit all youth including newcomers to Canada, indigenous youth, youth with disabilities, youth with language barriers, youth in remote regions of Canada and youth who have dropped out of school and are unemployed.
For more information and to take the assessment, visit www.rightcareerpaths.ca. To view the ALiGN campaign video "Words You'll Never Say", click here. ALiGN your future employment with your unique personality today.
-30-
The Ontario Tourism Education Corporation (OTEC) is Ontario's tourism and hospitality workforce development organization. The not-for-profit organization delivers award-winning skills training, consulting, research and insight – guiding evidence-based workforce strategy.
OTEC leads Tourism & Hospitality Emergency Response (THER), a recovery plan funded by the Government of Canada's Future Skills Centre and the Government of Ontario for workers and workplaces to help people who have lost their jobs or are working fewer hours due to the COVID-19 pandemic.
The Future Skills Centre (FSC) is a forward-thinking research and collaboration hub dedicated to preparing Canadians for employment success and meeting the emerging talent needs of employers. It is funded by the Government of Canada's Future Skills Program. The FSC is a partnership between Blueprint, a non-profit research organization, the Conference Board of Canada, a non-profit research organization and Ryerson University.
Media Inquiries
For more information, interviews or images, please contact:
Shelagh O'Donnell, Director, Marketing Communications, OTEC,
(416) 622-1975 ex. 223; sodonnell@otec.org